Custom Die-cut Sticker & Labels UK
Looking for creative ways to promote your business with custom-made stickers?
Our custom die-cut stickers are perfect for any occasion from product marketing and branding to personal use.
Choose from high quality vinyl, durable paper or clear transparent materials in exact shapes of your design. Create unique logos and designs with precise laser cutting accuracy that will stand out among the rest.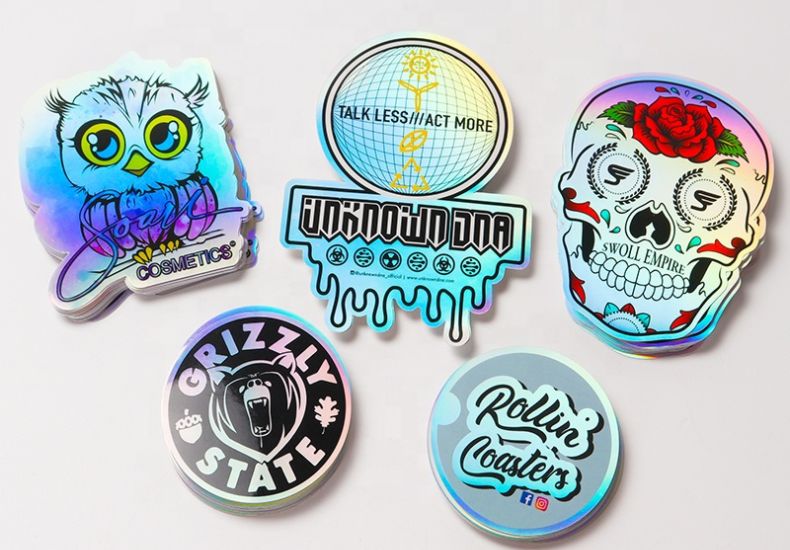 Die Cut Vinyl Stickers UK
Extremely impressed with quality of labels and level of customer service I received. The team helped me select right material and design for my labels!
George Weston – Business Owner
Will be a returning customer
The stickers turned out perfectly with vivid colors and crisp lines. The process was easy, from uploading my design to receiving my order on time.
Scarlett Bates – Co-founder
Get Custom Printed Clothing Labels
Die Cut Stickers Manufacturing Process
We have a wide selection of products for you to choose from, so you can find the perfect one for your needs. Plus, our Designing team is passionate about style and design, so we know how to help you make the perfect design for you.
You can tell us about your project and we'll provide you with a custom quote based on your needs. We want to make sure that you're getting the best possible value for your money, so we'll work with you to find the right solution.
Your Approval For Prototype
You will be able to work with our team to make sure that your prototype is perfect and ready for production. We want to make sure that you are happy with the product and that it meets all of your needs.
We guarantee quick turnaround times and excellent customer service. Plus, we offer a variety of shipping options to choose from so you can find the perfect one for your business.
Custom Die Cut Stickers Labels UK
Custom die cut stickers and labels are a great way to showcase your brand, promote your products/services or simply express yourself. These special pieces of vinyl cut stickers are created using laser cutting technology that precisely cuts out any shape you desire to create the perfect design. Whether it's a logo sticker, product label or something unique – our custom die cut stickers and labels are the perfect way to make a statement.
We provide high quality die cut sticker printing – including custom shapes! Our team of experienced laser cutting professionals will ensure that your exact shape and design are printed to perfection with full colour CMYK designs along with crisp white lines for more dynamic designs.
We also offer great deals on our custom die cut stickers including free shipping for orders over £50. We use only the finest materials to ensure that your stickers and labels last long and have a strong adhesive base. Plus, you can choose from matte or gloss finishes!
Our die cut sticker printing service includes production-level cutting with a maximum sheet size of 508mm x 660mm. We guarantee quick turnaround times and perfect precision for your custom shapes, logos or artwork every time. Plus, our premium quality vinyl is resistant to fading and cracking!
Our custom die-cut sticker printing service is easy and affordable! Plus, we make sure everything looks beautiful before it ships to you so you can be confident of receiving amazing quality every time. Get started today by exploring all the options available on our website!
What are the advantages of die cutting?
Die cutting provides several advantages for making stickers and other items. Here are some of the major benefits:
Accuracy and Precision:- Die cut machines produce extremely accurate shapes that cannot be replicated with any other method. This makes them perfect for creating custom designs or logos.
Cost-effective:- Die cutting is a cost-effective way to create multiple items in one go. This can save time and money compared to other methods such as hand-cutting or laser cutting.
Flexibility:- Many die cutting machines can handle multiple materials, giving you the flexibility to create different types of stickers and products with ease.
Versatility:- With die cutting, you can create intricate and unique designs that cannot be achieved with other methods. This makes it perfect for projects such as promotional materials or labels.
Overall, die cutting is an excellent way to create custom stickers and other products quickly, accurately and cost-effectively. It is a great option for those looking to bring their ideas to life.
Die Cut Vinyl Stickers
Die cut vinyl stickers are made from a high-quality vinyl material that is both durable and long-lasting. Our vinyl stickers can be cut into any shape, size or design you desire, making them a versatile option for any promotional needs.
Vinyl laser cut stickers are a popular option for those looking to make a lasting impression. With a precise cut. Our vinyl laser cut stickers can be designed in any shape or size to best represent your brand.
Die Cut Label Printing
Die cut label printing is a great way to make your products stand out from the rest. It can be used for a variety of items such as business cards, product labels and even promotional items. Die cut labels are created using specialized machinery and equipment that cuts out custom shapes from sheets of paper or other materials.
The process involves cutting out a predetermined shape from the material, then over-printing it with ink or digitally printing it with vibrant colors and graphics. Die cut labels are perfect for creating unique shapes that can showcase your business or product in an eye-catching way.
Die Cut Sticker Printing | FAQ
92% Of Our Customers Generate Their Instant Custom Printing
Quotation By Free Quotation Engine!
Call us now at (+44) 745 642 9902
Receive Your Instant Quotation