Looking for a unique way to market your business?
Custom vinyl stickers are the perfect way to do just that! They're durable, weatherproof, and look great on any surface. Plus, you can create any design you want – the possibilities are endless.
There's no minimum order quantity, so you can order as few or as many stickers as you need. And we offer a wide range of sizes to fit any need.
Order your custom vinyl stickers today and see how they can help take your business to the next level!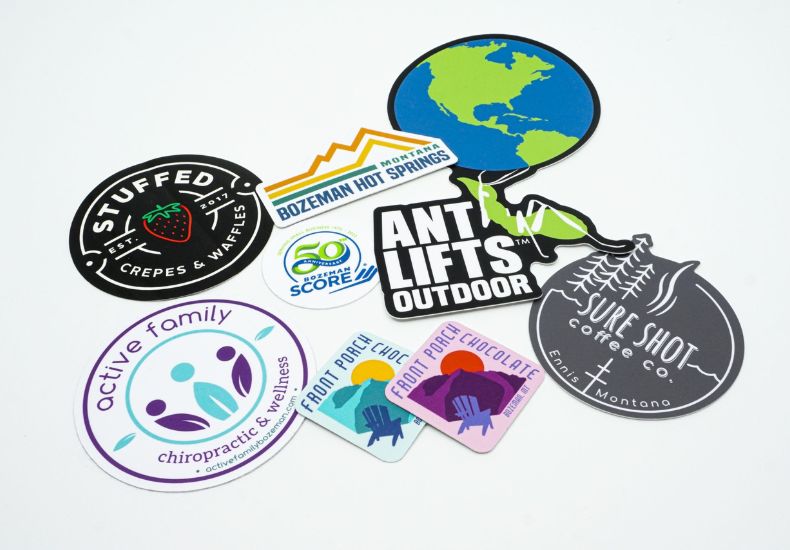 Self Adhesive Vinyl Stickers
Extremely impressed with quality of labels and level of customer service I received. The team helped me select right material and design for my labels!
George Weston – Business Owner
Will be a returning customer
The stickers turned out perfectly with vivid colors and crisp lines. The process was easy, from uploading my design to receiving my order on time.
Scarlett Bates – Co-founder
Get Custom Printed Clothing Labels
Vinyl Stickers & Labels Printing Process
We have a wide selection of products for you to choose from, so you can find the perfect one for your needs. Plus, our Designing team is passionate about style and design, so we know how to help you make the perfect design for you.
You can tell us about your project and we'll provide you with a custom quote based on your needs. We want to make sure that you're getting the best possible value for your money, so we'll work with you to find the right solution.
Your Approval For Prototype
You will be able to work with our team to make sure that your prototype is perfect and ready for production. We want to make sure that you are happy with the product and that it meets all of your needs.
We guarantee quick turnaround times and excellent customer service. Plus, we offer a variety of shipping options to choose from so you can find the perfect one for your business.
Personalised Vinyl Stickers | Related Products
Custom Vinyl Stickers UK | No Minimum Order
You want to make custom vinyl stickers but don't know where to start. It can be hard to find a good sticker printing company that offers quality products and services at an affordable price.
Customise Sticker is the perfect solution for your vinyl sticker needs. We offer high-quality, custom vinyl stickers at an affordable price. Plus, we have a wide range of sizes and colours to choose from so you can create the perfect stickers for your business or event.
Why Creating Vinyl Stickers in Important?
Custom Stickers are one of the best ways to give your product or event a unique look. Our custom vinyl stickers are printed on high-grade materials ensuring maximum durability and excellent results. We provide a wide range of custom stickers in various shapes, sizes, colours and finishes including gloss, matt and textured matt vinyl. All our custom vinyl stickers are printed with a medium-strength adhesive, perfect for sticking to all kinds of surfaces.
Our custom vinyl stickers come with two layers: A printed layer and a clear vinyl transfer tape layer. This makes it easy to apply the stickers on almost any surface – from your car, bike or laptop to water bottles and wall decals. We offer a range of sizes and shapes including circles, squares, ovals and custom shapes.
At Custom Vinyl Stickers UK, we specialise in providing the highest quality stickers at unbeatable prices. With our price match promise and free shipping policy, you can be sure that you're getting great value for money when you order from us. Plus, we also offer excellent customer service and live order tracking, so you can stay up to date with your purchase from start to finish.
Whatever custom vinyl stickers you need – from car decals to wall stickers or labels for your products – at Customise Sticker, We're guaranteed to find the perfect design for your project. Plus, with no minimum order and original pricing, you can order as few or as many custom vinyl stickers as you need.
So why wait? Get creative and start creating your custom vinyl stickers today! Order now for fast and free shipping. We are sure you will love our high-quality vinyl sticker products!
Gloss Vinyl Sticker Printing
Gloss vinyl stickers are high-gloss, durable and versatile – making them ideal for any indoor or outdoor application. Our gloss vinyl stickers are printed on premium self-adhesive glossy materials and can be used to create promotional window decals, bumper stickers, wall decals and more.
They are also perfect for adding a unique touch to your car, laptop or water bottle. Gloss vinyl stickers provide excellent durability in all kinds of weather conditions – making them an ideal choice for outdoor applications.
Matt Vinyl Sticker Printing
Matt vinyl stickers are a popular choice for those seeking a high-quality, durable and versatile labelling solution. Made from premium-grade vinyl material, matt vinyl stickers offer excellent resistance to fading, water and tearing, making them suitable for both indoor and outdoor use.
Additionally, the matte finish gives them a sleek and professional look, making them an ideal choice for branding, product labelling and promotional purposes. With an easy to apply backing and a long lasting adhesive, matt vinyl stickers are quick and simple to apply and can withstand even the harshest conditions. Whether you're looking for a temporary or permanent labelling solution, matt vinyl stickers are the perfect choice for your needs.
Clear Vinyl Sticker Printing
Clear vinyl stickers are a unique and eye-catching way to promote your brand or products. These transparent labels are perfect for creating custom window decals, product labels, wall graphics and more. With our clear vinyl sticker printing service, you can create any kind of design – from intricate logos to detailed illustrations – thanks to the high quality of the materials we use. Clear vinyl stickers are also waterproof, tear-resistant and fade-proof, making them suitable for indoor or outdoor applications. Plus, with an easy-to-apply backing, you can attach these stickers quickly and easily to any surface – perfect for promotions and advertising campaigns.
Textured Matt Vinyl Stickers
Textured Matt Vinyl is a high quality vinyl material that is perfect for sticker printing. Its unique texture provides a non-glossy, matte finish that gives your stickers a professional and sophisticated look. This material is also incredibly durable, making it ideal for outdoor use as it can withstand exposure to the elements. Its versatility allows it to be used on a variety of surfaces such as glass, plastic, metal and even rough surfaces like concrete and wood.
Custom Vinyl Decals | FAQs
92% Of Our Customers Generate Their Instant Custom Printing
Quotation By Free Quotation Engine!
Call us now at (+44) 745 642 9902
Receive Your Instant Quotation